In 2021 opened for the first-time Tahko Ski Lift student track. Giving possibility for creative people, students and student-minded people to pitch their early-stage business concepts. People were able to join the event either as individuals or in teams. Majority of the event was conducted in virtual settings and was tailored to help participants to move forward. During the track, participants had the opportunity to learn presentation skills, sales-pitching and how to validate their early phase business concepts. Events were held in both Finnish and English:
The track had over 50 participants, with different backgrounds and motives. This kind of open participation capsulates the Tahko Ski Lift spirit, the spirit of innovativity and entrepreneurship in the North Savo and Eastern Finland. It is also a good example how students of Savilahti and all other campuses of the region can participate joint events.
The track finalists pitched individually and each participant got feedback on their concept. The pitch was a maximum 5 minute presentation of the core of the idea, which could include the maximum of 5 slides.
Including:
– What is the problem you are solving / the customer's need
– The solution or concept that you provide
– The market / Opportunity
– What concrete steps you need to take realize the concept
– Present your own/the team's competencies, roles, desire
Evaluation criteria for the concept were:
– The creativity of the concept
– How the concept idea was presented
– Participant's reflection and answers to the additional questions after the pitch
Habiba Moataz and the team Fenix was chosen as the winner of the track. Team is working on a concept that provides workspace for repairings and tools and technical help for clients in multiple markets. In this way people with limited resources have more wide access to workshop environments and a possibility to use basic tools. and they are able to repair their own furniture and items without paying high labor costs. Team presented well their targeted segment. The presentation was well practiced and clear. Team also took into account comments and sustainability issues.
Team Fenix:
Onur Sencan
Habiba Moataz
Talha Javed
Special thanks to Marko Eskola for presenting the spring factory game. Also, thanks for Özerk Göker and Abdelazim Hannoura from Savonia University of Applied Sciences: great collaboration and sparring of the innovation concepts!
Remarks:
"Personally, being a part of the Tahko Ski Pitch student track was amazing. I believe that I have learnt a lot of things and improved my skills.
I hope the student track of the event will be organized for many years. It is a real area and opportunity to show and improve business, communication and sales skills for the student. I appreciate organizations by the name of my team."
Best Regards
Onur – Team Fenix
"The culture of entrepreneurship and innovation in educational institutions consists of several things: curious and talented people and the prevailing atmosphere and attitude towards creativity. In practice, it also involves local networks, know-how and its development, infrastructure and business. It is important that the ideas that emerge start from self-realization and allowing for experimentation. In addition, clear programs are needed to put the ideas into practice."
– Matti Laitinen, Tahko Ski Lift pitch team, Innovation Advisor at Business Center North-Savo
About the event:
Majority of the event was conducted in virtual settings and was tailored to help participants to move forward. Event was held in both Finnish and English:
Wed 17.3. at 13 – 15 Sparring session I (In English)
Thu 18.3. at 15 – 17 Sparring session II with Jethro Rostedt! (In Finnish)
Wed 24.3. at 15 – 17 Tahko Ski Lift Pitch track – Sparring session with team of experts (EN & FIN)
Thu 8.4. at 9.30 – 11.30 Tahko Ski Lift Pitch Event – Tahko SLP Student Track Finals. The winner gets a 200€ giftcard! (EN & FIN)
People had a great opportunity to gain valuable experience for their sales skills and get feedback on their ideas – and the possibility to win the prize of 200 euros!
Here is some general information of the Track.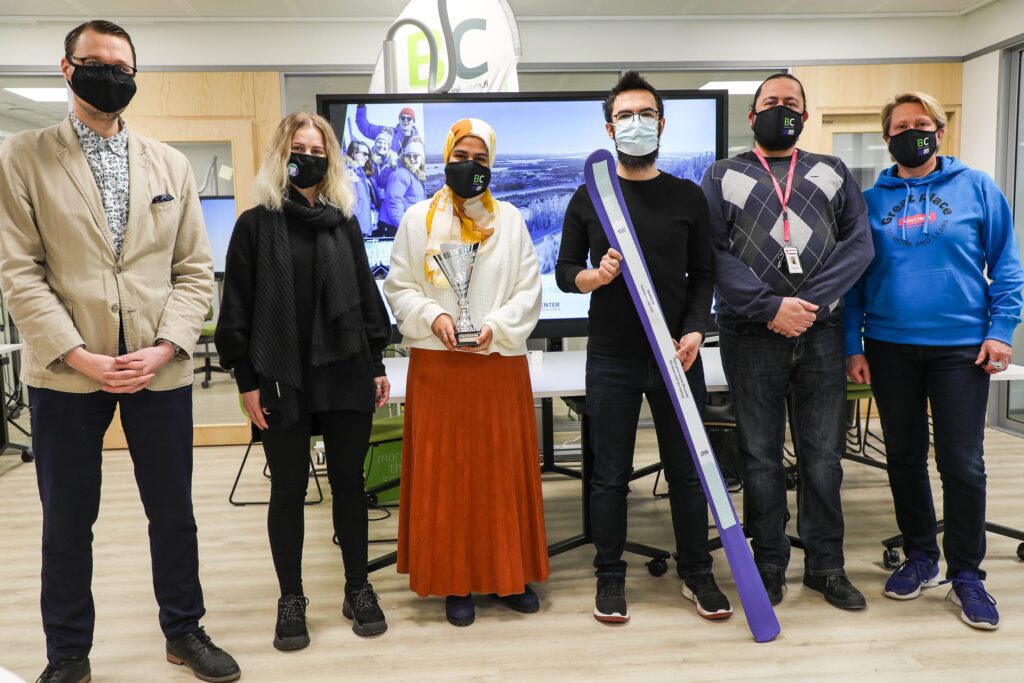 Ask more about the concept:
Matti Laitinen
matti.laitinen@savonia.fi
puh. +358 44 785 6333
Tiina & Team
tiina.hartikainen@kuopiochamber.fi
puh. +358 44 513 2904